---
︎
Hair is more than a body part. It powerfully relates to one's self-expression and personal identity.
Keywords
concept book · self expression· hairstyle
This is a book about hairstyle and its relation with personal expression, aiming to inspire readers a new perspective viewing our hair: it's more than just a body part; It can reflect one's personal identity and expression. Furthermore, starting from the concept of hairstyle, I hope the book could encourage young readers to more confidently embrace their own unique choices of self-representation.
This book is narrated by a little girl, who lives in a family with diverse cultural backgrounds. Following the girl, readers get to know the stories and meanings in her families' hairstyles. Complemented to the bold and clean composition, details embedded in the images invites readers to explore and interpret in their own way. This is a book targeting 4-7 children but I believe it can be appreciated by a wider cross-age audience due to the ironic humor inside.
This book was created as a MA project. It is selected to the dPICTUS unpublished picturebook showcase 2020, the jury's favorites shortlist. The Book was also one of the Honourable mentions in the 4th edition of the 2021 Clairvoyant International Books Competition, Poland (organised by Wydawnictwo Dwi Siostry).
Seek for publication cooperation. Please email me if you'd like to reading-out video of the whole book.
Further information
---
All rights reserved. No part of these pages may be used for any purpose unless explicit authorized by Thea Lu.
The dummy book
Some interior spreads.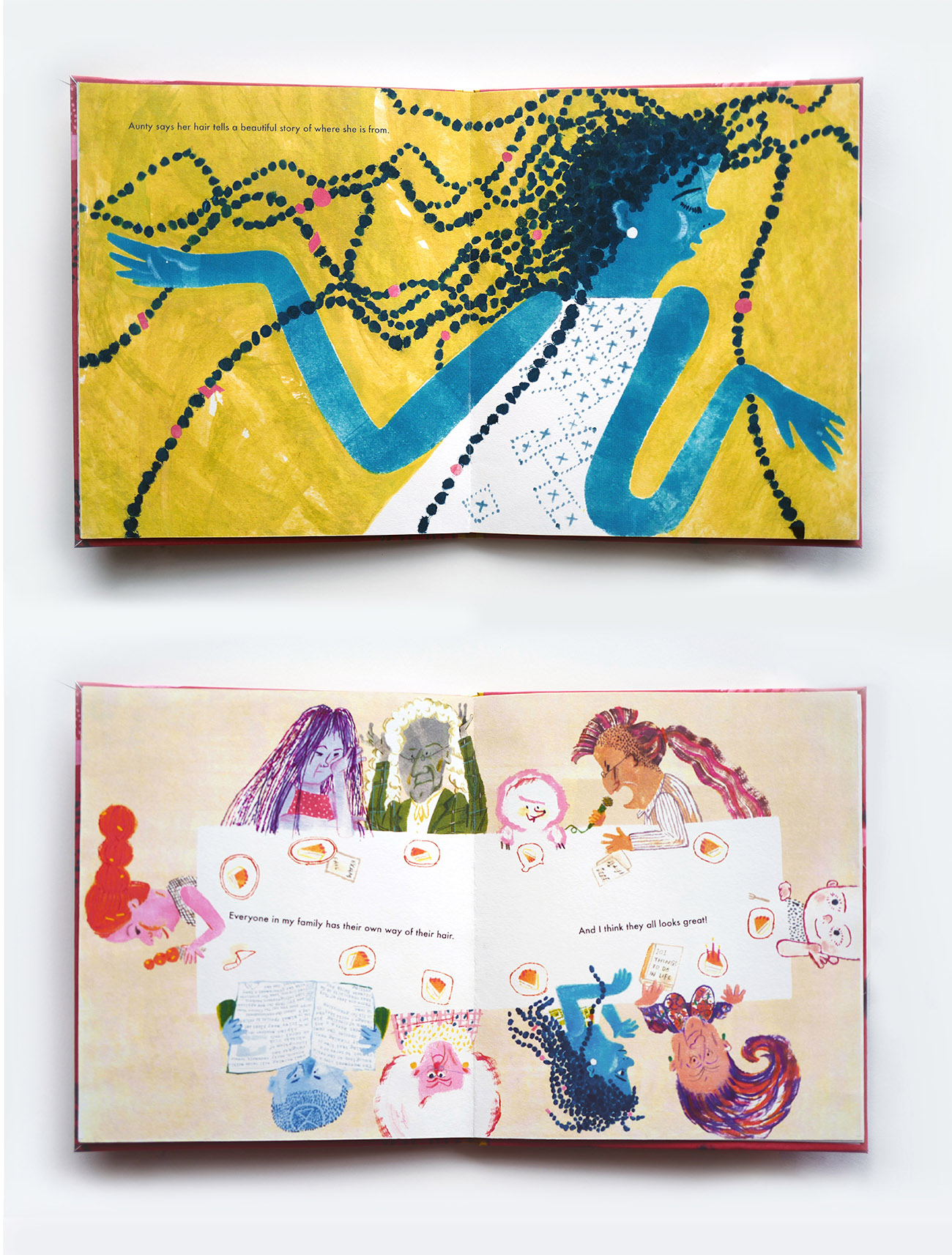 Grandpa is too wise to have hair, but he still needs to wear one for work.

Uncle says his hair shows who he really wants to be.
The idea of YOUR UNIQUE HAIRSTYLE was later transformed into a mini-exhibition for children in a family-oriented shopping mall in China. In the ground floor lobby, I created a giant wall-sized canvas, inviting children and their parents to create the hairstyles they wish for.
children and families created their 'dream hair' on the canvas.
/ Behind the Stage /
---
color storyboard and dummy book
color experiment