---
Schoolbag Design | Refreshing Motifs & Color Theme for Primary School Kids
---
MoonRock is an award-winning schoolbag brand in Hong Kong and it started its brand awareness with a series of saturated solid-color combination schoolbags. From the market feedbacks, they've learned nowadays more and more parents are willing to let the children make their own choices. And compared to the pure color models, primary school children resonate more with schoolbags with a bit decorations. So MoonRock wanted to launch a new product line, featured with illustrated patterns or motifs which can better fit children's preference while continuing its existing brand language as well.



---
Copyright researved by MoonRock, HK. No part of these pages may be used for any purpose.
---
A clear analysis and definition can assure a project heading in the right direction.
From the client's feedback and competitive brands research, I found there are mainly two patterned schoolbags on the market: one with famous IPs, such as Disney princesses and The Little Pony; another one is more common which covered by continuous patterns. Obviously, I want to help MoonRock to establish a new look&feel that differentiate from the existing. We discussed the potential design directions with the help of the visual spectrum and moodboard, and later a direction was aligned.



As the delivery, two schoolbag models are designed. Each has two motifs with 2 colors.
| Model A |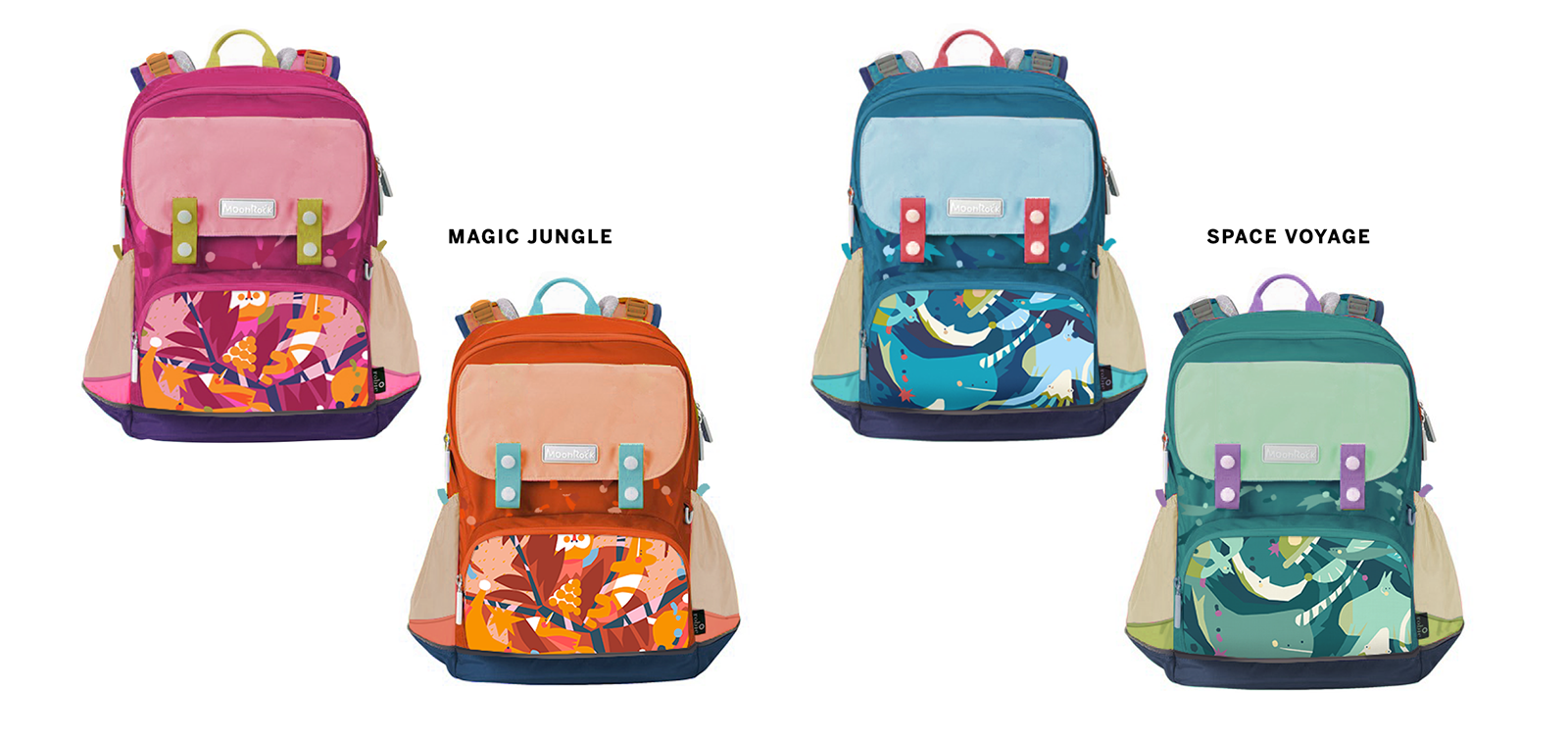 | Model B |
In addition to the key visual, I also designed a series of auxiliary patterns for lining fabrics and a product brochure presenting the feature of new models. Fabric pattern can also be used in packaging paper or handbag. etc.
Behind the stage /
---
sketches and prototyping
© All rights reserved. Please don't use, reproduce,modify or store in retrieval system in any form for any purpose without explicit authorization by Thea Lu.